About Read the Hebrew Bible
Read the Hebrew Bible is an innovative new course for learning the Tanach (Hebrew Bible) in the original Hebrew.  New teaching techniques are used to make it possible to learn the Biblical Hebrew texts in order to learn Hebrew instead of the other way around. Besides being more effective, it is a lot more fun!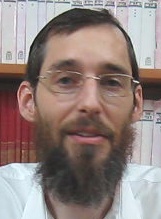 Read the Hebrew Bible was created by Seth Young, one of the world's most prolific Hebrew teachers.  Seth teaches tens of thousands of Hebrew students (!) at various levels via his various web sites, email lists, Facebook groups, online courses, CDs and more.
Most of Seth's Hebrew was learned as an adult.  He knows what worked and what didn't work for him and he uses that knowledge to create resources that help others learn Hebrew faster and easier.
But Seth considers Read the Hebrew Bible to be his magnum opus because he gets to help others learn the Bible in the original Hebrew, something that he himself spent years learning how to do.
You can sign up for the course on our home page here:
And you can check out the free sample lesson here: